| | | |
| --- | --- | --- |
| | | Correspondence welcome in English, Spanish, Portuguese, Italian, & French. |
WHAT'S NEW . . .

This index/welcome page updated 8 MAY 2013 . . .
other pages, variously . . .
OurNEWEST ARRIVALS were
updated 20 MAY 2013 — Click at top left!
~ PRB&M ~
~ YOU'LL BE WELCOME HERE AT THE ARSENAL! ~
~ OPEN BY APPOINTMENT, WITH PLEASURE ~

~ GENERAL "OPEN HOUSE" MOST SATURDAYS 12–4 ~
OUR MAY SATURDAY OPEN HOUSES WILL BE
ON THE 11TH, 18TH, & 25TH (12–4)

"RSVP"!

O
ur toll-free number has changed & is now 888/960-7562;
if you want to be SURE of getting memos on Open Houses,
please tell us!
For more photos & important
notes on VISITING,
click here.
BROWSE books by Language, Century, or TOPIC

ABAA Code of Ethics • About "SESSABKS" • TERMS, PRIVACY, & GUARANTEES • On COLLECTING
ADVENTURES in Bookselling • What we BUY • APPRAISALS
| | | |
| --- | --- | --- |
| | Come Here Often? IF YOU WOULD LIKE TO RECEIVE OCCASIONAL EMAILS HIGHLIGHTING NEW FEATURED BOOKS, WEB CATALOGUES, EVENTS, & OTHER SHOP NEWS, CLICK HERE. | |
---
---
Welcome, Spring . . .
&
If you're travelling I-95think of visiting!
(At Exit 27, you'll be within a
quarter-mile of us.)

RIGHT NOW, our "SessaBks" shelves offer more books that
aren't databased (and probably never will be)
than we've EVER had before.
They're just HERE for your finding . . .

Please call or email for an appointment & directions,
Or, plan to come by on a Saturday afternoon.
For more on visiting, click here!




---
---
As always!
You can CLICK the multi-colored link
or the picture below to see
an illustrated description of our current . . .
| | | |
| --- | --- | --- |
| | | |
New pictures let regular visitors know when there's a new book or manuscript to click to.

If you would like us to send you the link directly
by e-mail, each time, we can do so . . . just ask!
Or review

THE GALLERY of Featured Books . . .

You can also CLICK!
to view QUANTITIES of our stock not yet
(and sometimes never to be) in our illustrated catalogues.
You can sort your finds by author, title, or date;
and you can ask just to see
OUR 25 NEWEST POSTINGS.
SEE THOSE

NEWEST POSTINGS

right from here . . .
---
---
Then!
BROWSE @ PRB&M BY TOPIC . . .
OR LANGUAGE OR CENTURY. . .
The GREEN button below takes you to
our full, always-evolving
CATALOGUE of WEB CATALOGUES . . .
. . . with a mere Selection showing below . . .
POST-1820 AMERICANA — click here

PRE-1820

AMERICAN

A — click here

Illustrated Books — click here

Or for

C

H

R

O

M

O

L

I

T

H

O

G

R

A

P

H

Y

only — click here

PROVENANCE — click here
China — click here
Literature — click here
PLAYBILLS — click here
Natural History — click here
Books about Books — click here
Children/Education/Children's Books — click here
Commerce/Finance/Trade — click here
Native Americana — click here
Medicine — click here
Cookery — click here
Ireland/Irish — click here AND/OR here

Greek & Latin Classics — click here
MEXICANA! — click here
Music & Dance — click here
German Americana — click here
Bibles, Testaments, & Bible Scholarship — click here

General Religion — click here
Judaica/Hebraica — click here
Rare Catholica — click here
Scotland/Scots — click here
Manuscripts — click here
C

H

A

P

B

O

O

K
S
— click here
Women — click here
Human Rights — click here
Books in French — click here
Books in Italian
— click here
16TH Century Books — click here
Collected Presses — click here
AND SETS! — click here.
See also!
BINDINGS • BINDINGS • BINDINGS
— click here
And for our ANTIQUARIAN
GENERAL MISCELLANY,
Just click the BOOKSHELF picture!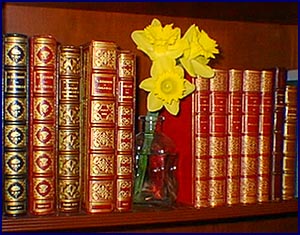 ---
---
Have we mentioned it lately that

CUSTOM!
PRB&M E-GIFT CERTIFICATES
may be created for, say,
Mother's Day
& MEMORIAL DAY



— as well as for Birthdays Anniversaries Graduations

Retirements Apologies & TUESDAYS?
Email for details! or
to see sample GIFT CERTIFICATES,


click here.
Here's a special LIST of items by, for, from, or

about

MOTHERS — enjoy it & pass it on!
---
---
Ready for a breather from book-looking? Read an

ADVENTURE in BOOKSELLING . . .
[CLICK HERE]
OR!
For the Tale (or Tail) of how
our subshop "SESSABKS" came to be,
Click here . . .
---
---

Has PRB&M shipped books to
a country(wo)man of yours?
Or to your national library?

Click the globe, to find out!
$USD

?
There's a CURRENCY CONVERTER on
our navigation bar, at left.
---
---
GO ON TO LEARN MORE ABOUT US . . .
(click here)
. . . but, oh, my! this needs to be updated!
---
---

Address all questions/comments about
this site or its books
TO: rarebks@prbm.com
David Szewczyk & Cynthia Davis Buffington
Principals (LLC)
All material © 2013
The Philadelphia Rare Books & Manuscripts Company
| | | |
| --- | --- | --- |
| | PRB&M/SessaBks | |